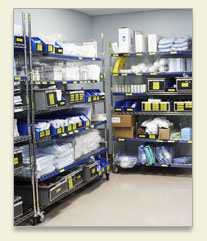 Custom Orders Welcome
We have all been experiencing the shift in purchase influence to a financial basis. Added to this cost-driven scenario are the constraints on adding staff or additional processing equipment.
Where there is a need to reduce cost, including your in-house labor and overhead, Dermapac provides product made to your exact specifications at a cost lower than your in-house cost.
Any product that is being purchased or produced in-house because it is not available to your exact specifications is a candidate for our services. Dermapac will produce the items to your exact specifications as sterile disposables.
Many standard product categories can be quoted from your written specifications alone. Where necessary, we will obtain samples of your products to prepare prototypes and a cost proposal.


Compare the Dermapac products to your in-house or purchased products, and compare the cost to your in-house cost for raw and packaging materials, sterilization, direct labor, supervisory labor, inventory carrying costs, and overhead. Also, consider that your direct labor can be redeployed where needed when in-house products are replaced with Dermapac sterile, disposable products.
Please give us the opportunity to demonstrate our capabilities for your custom product needs.